Our management diligently seeks to maximize its intellectual capital and innovative abilities in order to develop the human element as it is considered one of the company assets that need to be maintained. This shall include elimination of difficulties by providing a suitable work environment and paying attention to the human element through leadership, technical and administrative training. This aims at creating cadres able to assume administration, production and marketing responsibilities in order to cope with the rapid growth of the industry and face all forthcoming challenges.
The percentage of trainees during the year – in question – is %28 of the total number of employees.
It was observed to adhere – as far as possible – to directions of the company General Assembly in respect of cutting down and rationalizing expenditure especially as for the individuals who are not involved with production activities.
We managed – with the help of ALLAH – to convert the training plan into reality as follows: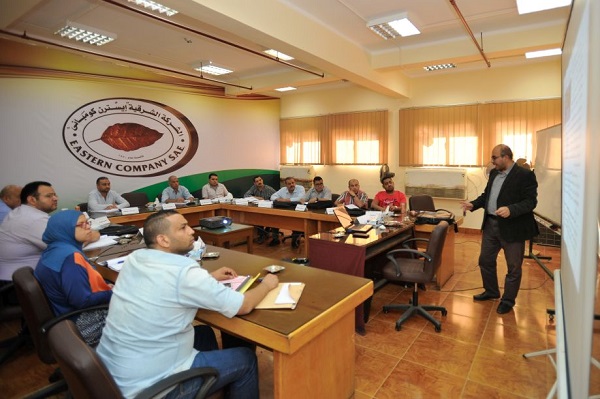 Ms. Wafaa Saad,
Head of HR Development Sectors
Tel: 35703324, Tel: 35719512, P: 35687434
Eng. Ahmed Ismail Darwish
Head of Production Affairs Sectors
T: 35703324 P: 35687434
Eng. Ali Hijazi
Head of production sectors
T: 35687434 Tel: 35721354
Mr. Adel Al-Sabbagh,
Head of Marketing Sectors
PO Box: 35703310 Tel: 35703312
Eng. Huwayda Al-Saeed Mahmoud
Head of Purchasing and Warehousing Sectors
T: 35731792 Tel: 35703312
Acc. Ali Saad Al-Din Ali

Deputy Head of Financial Sectors and IRO
Tel: 01002637503 P: 35687434
Acc. Osama Fouad
Head of Financial Accounts Sector and IRO
Tel: 01100982830
Mr. Osama Saad Hassan
Head of Financial Sectors
T: 35729512 P: 35704897
Eng. Osama Mahmoud Abdullatif
Head of Project Sectors and Executive Director of 6 October & Burj Al Arab Sites
T / P: 35721205 Tel: 38164444 P: 35687434
Chemist. Abd Elmo'ty Saady Abdullah
Head of labs, Research & QC Sectors
T: 35724332 p: 35687434
Eng. Nasr Abdel Aziz Abdel Rahman
Head of Tobacco Leaf Sectors
Tel: 35723834 P: 35687434
Eng. Mahmoud Helmy
Head of Technical Affairs Sectors
Tel: 35725676 P: 35687434
Mr. Mustafa Mohamed Ashour
Legal Advisor
Tel: 35727658 P: 35687434
Ms. Hala Abdul Raheem
Head of Press, Information & External Relations Sector
Tel: 35704898 Fax: 3568743435687434